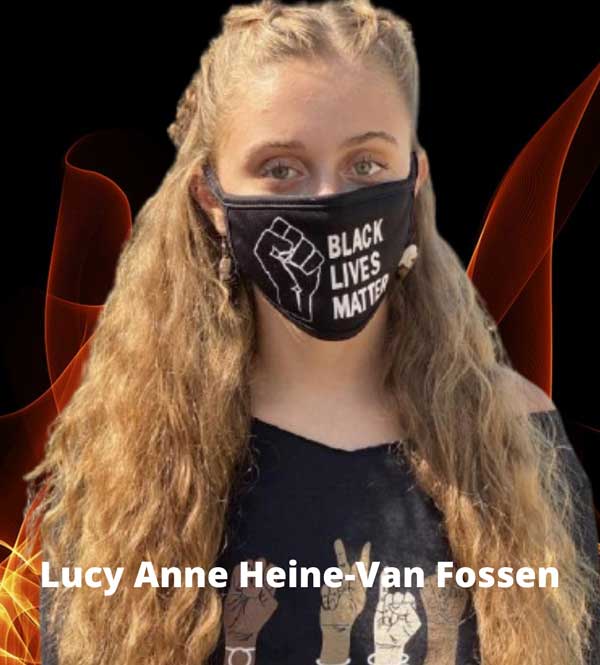 Meet Our Ally Ambassador!
Lucy Anne Heine-Van Fossen serves as Global Empathy's Anti-Racism Ally Ambassador and will be working with business executives, school districts, and high school students to support the program objectives. Lucy lives with purpose and has documented experience as an advocate for social justice, diversity, and inclusion. We love Lucy!
Heine-Van Fossen is the Creator and Co-president of the Black Lives Matter Club at her high school. In 2018, she organized a peaceful school walkout to protest gun violence. Lucy also co-produced a mini documentary about the Black Lives Matter movement in a white community and spoke at a teacher training about cultural awareness. She is actively involved in four Diversity and Equity Task Force Subcommittees (LGBTQ+,Ableism & Disabilities, Student Culture & Curriculum) in her school district.
Outside of school, Lucy is involved with several community member organizations. In Diversify Our Narrative, Lucy is an activist supporting their work towards racial justice, educational equity, and community power. She also volunteers her time with the LucStrong Foundation supporting families whose children have Sickle Cell Disease.
Academically, Lucy is a member of the National Honors Society and chosen for the high school Youth Leadership Program. She also currently serves as a news editor for the online school newspaper. Before COVID-19, Ms. Heine-Van Fossen was active in high school track and field and girls' basketball. She is currently active in Channel Islands Rowing Club.
Through her various involvement and engagement, Ms. Heine-Van Fossen has displayed compassion as an anti-racism ally and advocate for humankind committed to social justice and ending all forms of oppression. We salute your dedication and work ethic, Lucy! Welcome to the team! We are truly honored to join forces!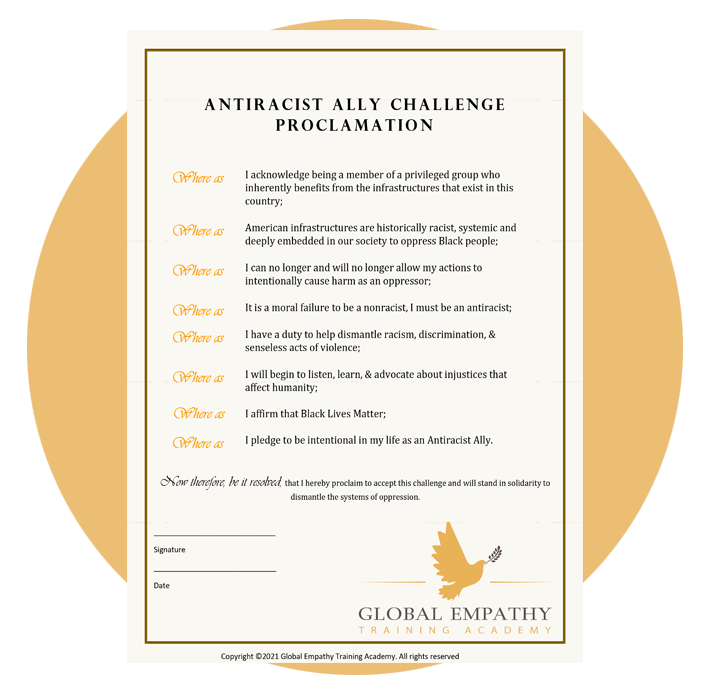 An Ally is a member of a privileged group that inherently benefits from the infrastructures that exist in society.
An ally can use their privilege to learn strategies to be a champion for the marginalized.
Connect with listening and understand as much as you can. Your position is to support, not lead the movement in driving change.

Enroll in one of our courses!

Post Your Signed Proclamation on Social Media!

#AllyChallengeNow #GlobalEmpathy #Antiracism #AllyProclamation
Antiracist Ally Challenge Proclamation
Where as

acknowledge being a member of a privileged group who inherently benefits from the infrastructures that exist in this country;

Where as

American infrastructures are racist, systemic and deeply embedded in our society to oppress Black people;

Where as

I can no longer and will no longer allow my actions to cause harm as an oppressor;

Where as

It is a moral failure to be a nonracist, I must be an antiracist;

Where as

I have a duty to help dismantle racism, discrimination, & senseless acts of violence;

Where as

I will begin to listen, learn, & advocate about injustices that affect humanity;

Where as

I affirm that Black Lives Matter;

Where as

I pledge to be intentional in my life as an Antiracist Ally.
Now therefore, be it resolved, that I hereby proclaim to accept this challenge and will stand in solidarity to dismantle the systems of oppression.